Get Your Cell Phone Repaired By Our Expert Technicians Crew in Queens, NY
Today we use our cell phones for everything, so whenever your phone gets damaged it can be extremely frustrating to use a device when it isn't operating at its highest performance level. When your phone is out of commission it can make it extremely difficult for work or your loved ones to get a hold of you. Your phone is capable of doing so much, that we want to make sure that you are able to use it without any problem.
At T.I.N.Y Repairs, we specialize in providing our customers with high-quality cell phone repair in Queens for almost any cell phone on the market. Whether you are looking for iPhone repair in Queens or Android device repair, our specialists are expertly trained and equipped to deal with any sort of repair situation. From a cracked screen to damaged charger ports we have the tools to repair your phone back to brand new. Our goal for our customers is to make sure that your phone is running as soon as possible.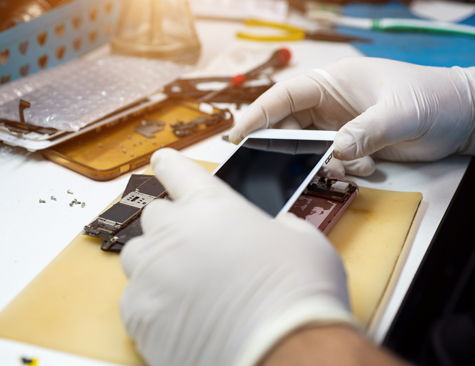 We treat our customers' phones with the utmost care and take immense pride in making sure that the quality of our work is reflected in your phone. We want you to be able to walk out of our store with confidence that your Cell phone is working at its optimum performance level. Whether it's cell phone screen replacement in Queens or battery replacement, we use high-quality and genuine replacement parts.
You shouldn't have to travel out of your way just to get a cell phone screen repair in Queens done to your Cell phone, why wait in a crowded electronics store when you can get the personalized and expert touch of your neighborhood technicians. We proudly serve all of our clients in Forest Hills, Jackson Heights, Astoria, and the surrounding neighborhoods in Queens. Call our store or visit us today and see the work our highly trained experts can do for your phone!
T.I.N.Y can expertly handle repairs for almost any type of phone you can think of. This includes repairs for any of the following SmartPhone devices:
Cell Phone Repair
Back Glass Replacement

Water Damage Repair Diagnostic

Glass/LCD Replacement

Battery Replacement

Charging Port Replacement

Home Button Replacement

Speaker Replacement

Camera Replacement

Assembly Replacement

Device Cleaning

Device Unlocking

Button Replacement

Software Update

Device Diagnosis
Regardless of what type of repair you need assistance with, our experienced and skilled experts at T.I.N.Y Repairs can provide almost all types of device repairs. We repair every device as it were our own and take a great deal of pride in the quality of services provided. We strive to provide 100% customer satisfaction with your work.
T.I.N.Y Repairs serves a wide variety of areas including Forest Hills, Flushing, Astoria, Jamaica, Jackson Heights, and people in the surrounding neighborhoods. We take pride in being your go-to cell phone repair store in Queens.
ARE YOU LOOKING FOR QUALITY CELL PHONE REPAIR SERVICE IN QUEENS? GIVE THE TECHNICIANS EXPERTS HERE AT T.I.N.Y REPAIRS A CALL TODAY!