Have Your iPad Repaired By Our Trusted Technicians In Queens, NY
An iPad can be used for numerous amount of activities. Often times the tablet has come to replace the use of a laptop, where many people find themselves using an iPad to complete tasks in replacement of a traditional computer. iPads are favored for being lightweight and easy to transport, all while being able to function like a laptop. So at T.I.N.Y. Repairs, we understand why having a damaged iPad can seriously hinder your ability to complete tasks, or even just enjoy the tablet for leisure like streaming your favorite TV show, taking photos, or communicating with loved ones.
T.I.N.Y Repairs understands your need to keep in touch with your work and your personal life. When you visit our store you can guarantee that your iPad is in the trusted hands of our technicians and we can handle an array of problems that could occur to your device from water damage to a cracked screen with genuine components and iPad screen replacement parts in Queens. There isn't a problem too big or small that we can't handle!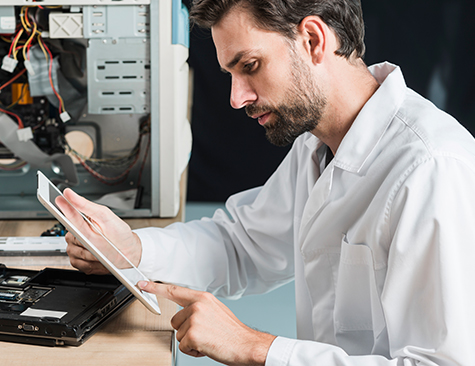 Our goal is to get your iPad working like it is brand new once again, and for you to leave our store with a smile on your face because we were able to provide quality iPad repair in Queens. Do you need to get your iPad repaired but do not want to deal with the hustle and bustle of an overcrowded Apple Store? T.I.N.Y Repairs proudly services their clients in Astoria, Jackson Heights, Rego Park, Forest Hills, and all of the surrounding neighborhoods in Queens. You shouldn't have to travel far to receive high-quality iPad screen repair in Queens. Call us today or come in and see how we can help you out today!
We can handle almost any type of iPad repair imaginable, including:
iPad Repair
Back Glass Replacement

Water Damage Repair Diagnostic

Glass/LCD Replacement

Battery Replacement

Charging Port Replacement

Home Button Replacement

Speaker Replacement

Camera Replacement

Assembly Replacement

Device Cleaning

Device Unlocking

Button Replacement

Software Update

Device Diagnosis
No matter what type of repair you need help with, our technicians here at T.I.N.Y have years of experience dealing with all or most types of devices and repairs. We treat every customer's device as if it were our own and we take a great deal of pride in our work. Not only does T.I.N.Y promise you'll be satisfied with our work, but we also stand by that work 100%.
IPads have become inevitable devices. If you have accidentally dropped or damaged your iPad screen, bring it to T.I.N.Y Repair for quality iPad repair services in Queens
We proudly serve, Jackson Heights, Forest Hills, Astoria, Flushing, Jamaica, and all of our customers in the surrounding neighborhoods. T.I.N.Y. Repairs is proud to be your go-to repair service team in Queens.
ARE YOU IN NEED OF A QUALITY IPAD REPAIR SERVICE, BUT YOU'RE NOT SURE WHERE TO GO? GIVE THE REPAIR EXPERTS HERE AT T.I.N.Y A CALL TODAY!