Your Number 1 Laptop Repair Experts in Queens, NY
Almost everyone has a laptop. They are light, easy to carry around and with all of their newest features and updates they are capable of performing at the same level as a personal or desktop computer. That is why at T.I.N.Y. Repairs we understand just how frustrating it can be when your laptop is damaged. Situations arise, and sometimes we need to take our laptop in to be serviced. At T.IN.Y. Repairs we are equipped to take care of any problem that your laptop might endure and work to provide quality laptop repair in Queens. We repair everything, from a damaged motherboard to replacing damaged charger ports, and screen repair, there is no problem that our technicians cannot solve for you.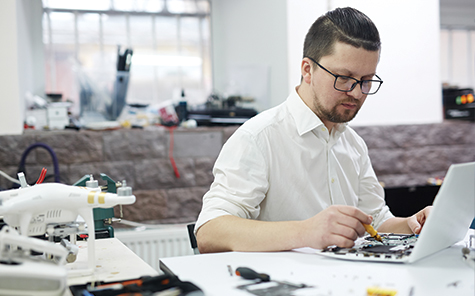 Laptops do a great deal of work for everyone, many people use them to work from home and manage their online businesses. While others may use it for more personal reasons. There is no laptop we cannot handle, Whether it uses Windows or Apple, or it's a MacBook or Toshiba, our expert technicians are trained to handle any types of operating systems and devices. We will have your laptop working like brand new in no time. Even if you are looking for MacBook Air repair in Queens, we are your best bet!
Our team of technicians at T.I.N.Y Repairs want to help you, if your laptop is damaged you shouldn't have to compete for time just to be seen by someone at bigger retail outlets, we are devoted to giving you our full attention and making sure all of your laptops repair needs are met. Come see why our customers in Jackson Heights, Woodside, Ridgewood, Flushing, Forest Hills and Queens love us. Let us repair your laptop for you, or any other electronic device of yours that may be experiencing a problem.
Laptop Repair
Water Damage Repair Diagnostics

Glass Repair

LCD Screen Replacement

Backlight Replacement

Touch Repair

Trackpad/Keyboard Repair

Logic/Motherboard Replacement

PC Clean Up

Battery Replacement

PC Memory/RAM Upgrade

PC Storage/Hard Drive Upgrade

Processor Upgrade

Virus/Spyware Removal

Thorough PC Servicing

Troubleshooting
No matter what type of repair you need help with, our technicians here at T.I.N.Y have years of experience dealing with all or most types of devices and laptop repair in Queens. We treat every customer's device as if it were our own and we take a great deal of pride in our work. Not only does T.I.N.Y promise you'll be satisfied with our work, but we also stand by that work 100%.
We proudly serve, Jackson Heights, Forest Hills, Astoria, Flushing, Jamaica, and all of our customers in the surrounding neighborhoods. T.I.N.Y. Repairs is proud to be your go-to Laptop repair service team in Queens.
ARE YOU IN NEED OF A QUALITY LAPTOP REPAIR SERVICE IN QUEENS, BUT YOU'RE NOT SURE WHERE TO GO? GIVE THE REPAIR EXPERTS HERE AT T.I.N.Y A CALL TODAY!